From
The Augusta Free Press
By Crystal Graham


Everyone has a story — even cattle
(online newspaper) — When I heard that a book had been written about the first four centuries of the cattle industry in Virginia, it didn't come as any surprise to me that Nancy Sorrells had co-authored the book.
While she's not technically a farmer, she's known as an advocate in farming circles — and campaigned on agricultural issues in her bid for a seat on the Augusta County Board of Supervisors.
In fact, it was Sorrells who had run her campaign for board of supervisors in an unorthodox way, at least a less traditional way, with signs of support for her showing up on hay bales, of all things.
With the backing of the ag community, Sorrells was elected to the board, and her place among farmers was well cemented.


Virginia's Cattle Story — The First Four Centuries paired Sorrells with Katharine Brown, a team that has worked together for more than 20 years. The two female historians are among a total of four that comprise the Staunton-based Lot's Wife Publishing, a company formed almost 10 years ago.
The coffee table book covers a wide range of topics — "archaelogy, geography, agricultural history, dietary history, a new slant on the French and Indian War, the American Revolution and the Civil War, aspects of economic history, and a look at the scientific advances that transformed the beef and dairy industries in the course of the 20th century," Brown said.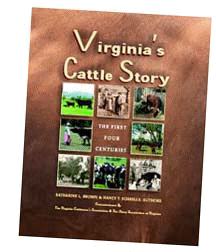 "The title of the book reveals a lot," Sorrells said. "It is the story of Virginia and the cattle and the people who settled the New World."
"It is a history book in disguise," Sorrells said. "And because the cattle wouldn't let us interview them, we had to look at the history of cattle in Virginia through the eyes of the people who brought them here and raised them."
It may come as a surprise to some that the two people behind this book are not farmers. After all, some would argue, who could really capture the cattle industry if they've never been a part of it?
"We are both historians and, while we are not professional farmers, we don't come into this project cold," Sorrells said.
Sorrells and Brown relied a good bit on their experience working at the Frontier Culture Museum together.
"As a consequence, my research duties took me deep into agricultural history," Sorrells said, "as I looked for answers to such questions as what breeds of livestock did these people have? Did they produce dairy products on the farm? What types of meat did they eat?"
And the duo weren't exactly solo on this project, either.
The pair were selected by the Virginia Cattleman's Foundation and the Virginia State Dairymen's Association to embark on this project.
"Because nothing like this has ever been done in Virginia, we were starting from scratch in many respects," Brown said. "It took us three years of research, writing, editing and layout before the book was ready to go the printer."
The research meant a lot of reading for the authors — and it took them beyond the Greater Augusta area, and on an educational journey that they would soon be able to share with others.
"It some instances, it seemed destined that we uncover bits of information," Sorrells said. "I discovered the history of cattle guards, for instance, while on a wagon-trail ride on the Kansas prairie."
They poured through diaries and journals, newspaper articles, business papers and other documents, and even through family scrapbooks.
"They shared generously, and loved the opportunity to be part of the story," Sorrells said.
The story has appeal well beyond the beef and dairy industry.
"I think anyone interested in the stories that make history come alive will be interested in this book," Sorrells continued, "whether or not they have ever seen a cow up close."
Details — Copies of the book are available for $50 by mail order from Virginia Cattlemen's Foundation, P.O. Box 9, Daleville, Va., 24083-0009.
- Copies are also available on-line at www.vacattlemen.org/foundation/orderform.pdf