---
One Who Served: Elder Charles Nesselrodt of Shenandoah County, Virginia, by Terry W. Barkley. 3rd edition, 2004, softcover, illustrated, and fully indexed. 101 pp.
This book tells the story of Elder Charles Nesselrodt, one of the last "free" and one of the first "set apart" ministers among the Brethren. A farmer and laborer, he served both the Stony Creek and Flat Rock Church, the oldest Brethren congregation in Virginia. Barkley's engaging style conveys a colorful Valley history, rich in genealogy. The reader quickly becomes absorbed in the lives of the people who lived among the isolated valleys and hills in the Shenandoah Valley in the late nineteenth century.





The History of Second Presbyterian Church, by Katharine L. Brown, 2002, hardcover, illustrated, and annotated, with name-subject index. 246 pp.
Written to commemorate the 125th anniversary of this congregation, this book examines the rich history of one of Staunton's few remaining "downtown" congregations. Of particular interest is the fact that Jed Hotchkiss, mapmaker to General Thomas "Stonewall" Jackson during the War between the States, was the founding father of this church.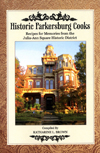 Historic Parkersburg Cooks: Recipes For Memories From the Julia-Ann Square Historic District, Compiled by Katharine L. Brown
$15.00 plus $5.00 shipping and handling.






---